BÓ | DO MONEY BETTER
Free activities for hours of fun with your kids
By Craig Hore, Editor | February 12th 2020
Keeping the kids entertained can cost a lot. Check out our ten tips for free and fun activities for hours of fun with your kids.
Whether it's sport or dance lessons, learning an instrument or partaking in other hobbies, one in three parents say they feel under pressure to spend money on their children's activities.
But such fun activities don't always have to cost money. We've put together 10 fun and free activities for kids which will provide endless hours of entertainment, and cost nothing but time.
10 free activities for kids
A great way to budget for your kid's paid activities is to set aside a specific amount of money each month for sports, clubs or whatever else they want to do. That will mean you always have enough money for them to do their favourite activities. For the rest, use our list of free activities for kids to keep them entertained without overspending.
1. Head to the museum
There are loads of amazing museums right across the country which are really fascinating for kids (here's a great list of free or inexpensive UK museums). Museums will often have exhibitions or sections designed especially for children that are fun and interactive, while also educating them and giving them something to impress their teachers with too.
Many museums run special tours by guides who are trained to work with children and are usually entirely free. These guides will explain the exhibits in a way your children understand so that they can better appreciate what they are looking at. You can check out the websites of local museums or call them up for more details too.
2. Head to the park of the great outdoors
Any parent will know that kids can have endless fun just playing around on the swings and slides. For more structures fun you could consider using the Park Lives website which organises lots of free events in green spaces right across the country.
As they get older it can also be good to go for walks in the woods, mountains or the seaside. Getting out and about is obviously good for health and fitness, and it's also a great way for them to learn about nature too.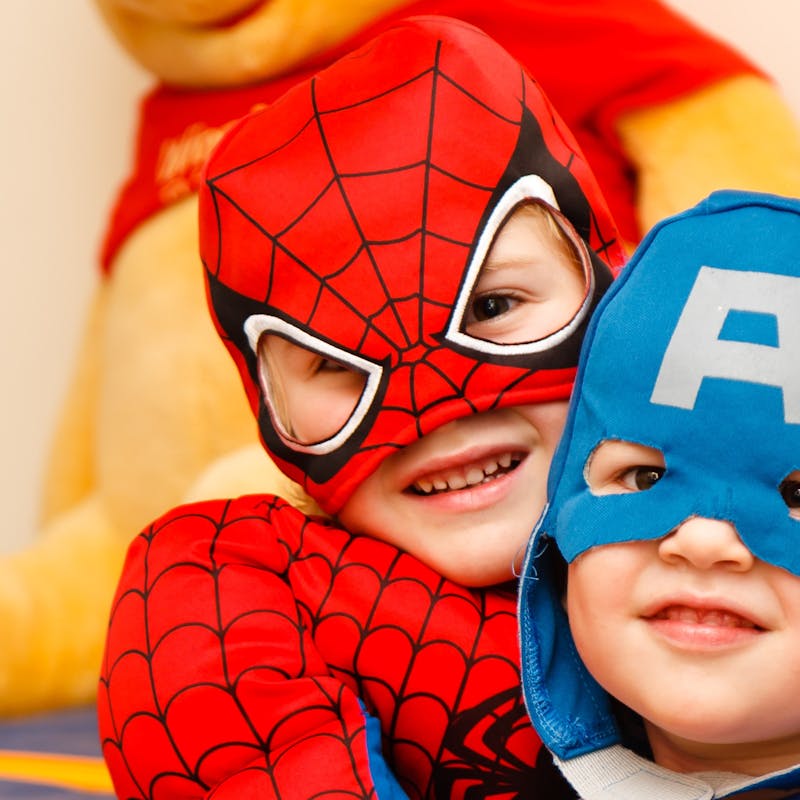 Getting out and about is obviously good for health and fitness, and it's also a great way for them to learn about nature too.
3. Websites and apps which provide free entertainment
You don't always have to spend money on toys and board games. If it's not the right weather for going out, visit websites like Latest Free Stuff, who send out samples of all kinds of toys, games and entertainment - a great source of free indoor activities for kids.
4. Community concerts and local events
Check your local council's website or Facebook page to find out about upcoming free events. concert or fairs that you and the family can attend. There are also lots of websites like EventBrite which list free or low-cost activities, targeted towards kids, near where you live.
5. Do a movie night
Movie nights are a great way of keeping the kids entertained without spending a penny. You could borrow some DVD's from your local library or try a free trial of a video streaming service to find fun films for all the family.
6. Head to the farm
Picking fruit and vegetables at a local farm is without a doubt one of the best free summer activities for kids. Keep an eye out for local farms which are advertising 'pick your own' days - you get free food and hours of entertainment! Pick your own farms also offers a list.
7. Freecycle for toys and gear
Why spend money on new footballs, basketball hoops, trampolines and other kids' entertainment when you can get it for free? Websites like Freecycle allow you to pick up toys and equipment from people in your area who no longer need them.
8. Learn to cook together
Cooking is an important life skill and great fun for kids too. It's not completely free as you will, of course, need to buy ingredients, but baking a loaf of bread, making a cake or some biscuits is very cheap and provides hours of fun. The BBC's website has tons of resources for simple but fun cooking - check out these baking ideas to get started.
9. Watch a live recording of a TV show
Fancy seeing celebrities up close and experience what it's like to be in the audience of a blockbuster TV show? Websites like Applause Store let you join the audience on a number of big TV shows. and they're usually free. That will definitely give the kids something to get excited about.
10. Go to the library
Your local library is an awesome resource for keeping kids entertained for hours. Especially if it is raining or cold, the library is a great, free indoor activity for kids. Many libraries have story hours where a volunteer tells a tale or even acts out a play - just contact your local library or visit their website to find out what's on. The library is of course also a great place for getting lots of books and films for free.
Keeping the kids entertained shouldn't cost the earth. With a bit of imagination, you can find loads of free activities for kids that provide hours of fun to share together!