BÓ | DO MONEY BETTER
The Bó Bó Bó Guide on How to Save Money at Christmas 
By Bó | December 5th 2019
With December just around the corner, the countdown to Christmas has definitively begun. However, if you're doing Christmas on a budget, the festive season can make you feel more like Scrooge than Santa.
The relentless pressures for people to spend money they might not have means people often end up in debt come January - which is not the best way of starting the year. 
The average person in the UK spends a whopping £567 on Christmas-related gifts, food, socialising and travel (Finder Oct 2019). For many people, that's just not possible, so we've put together a list of practical tips for Christmas on a budget. 
How to do Christmas on a budget
Christmas is supposed to be a joyous occasion, yet money worries can make the season super stressful. Read our tips on how to save money at Christmas, so you can enjoy December without the worries.
Set yourself a December budget
We know, setting a Christmas budget is hard to do, but it really is worth it. When your November paycheck lands, separate out your essential spending (bills, rent, travel etc.) then keep the rest of your earnings somewhere else. You should then decide on a hard and fast number for what you will spend this month and stick to it.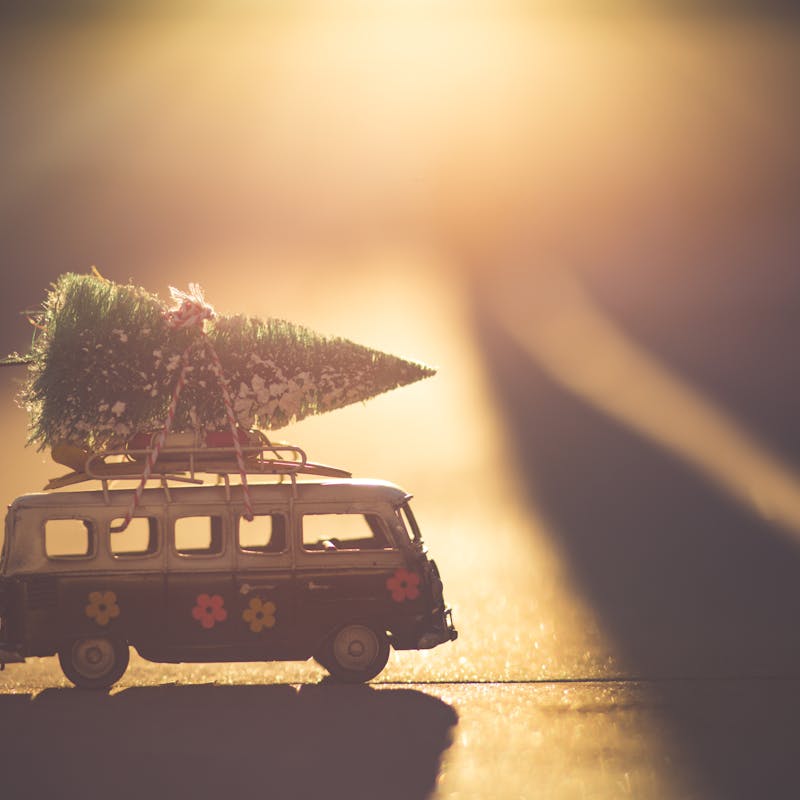 Christmas shouldn't be a time for stressing about money, but with the pressure to overspend, it often can be. Nonetheless, by taking a little time to stop and plan, Christmas can be much merrier. 
Say your take-home pay is £1,100 every month, and your rent, bills and other inevitable expense come to £600 – that leaves you £500 for everything else. You might, therefore, decide to set a December budget that looks like this:
£200 on regular food, activities or purchases throughout the month
£150 on gifts
£100 on socialising and going out
£50 on Christmas travel
The fact is, you might want to cut back on your regular spending and activities to factor in the Christmas spend. Perhaps you go to watch your local football club or get your nails done a couple of times per month – it might be worth missing out on these activities one time in order to increase the money you have available. 
Write a list
Perhaps the simplest and easiest way to save at Christmas is to write a list. At the beginning of December, grab a pen and paper and jot down all your likely expenses and the presents you want to buy. This means that you won't end up rushing around the shops on Christmas Eve panic buying and overspending.  
Agree on gift 'rules' with friends, relatives and colleagues
It's not always possible, but if you're doing Christmas on a budget, try and ask friends, colleagues and relatives if they'd be interested in setting 'rules' for gift-giving – a lot of them will probably thank you for doing what everyone secretly wishes they'd asked!
Colleagues: Suggest a 'Secret Santa' for work colleagues with a gift budget of no more than £5 or £10
Friends: Suggest that you don't all buy gifts for one another this year, but instead chip in an equal amount for a big night out together – perhaps going to a restaurant, bowling or karaoke
Family: After a certain age, buying and receiving gifts from your extended family can start to feel like an expensive chore. Why not suggest that the grown-ups just buy gifts for children instead? 

Find deals or buy cheaper alternatives online
One of the best ways to save money at Christmas is to search for deals and discounts – you could often save big sums of money on gifts, so you can get the best deal. 
There are several ways of doing this:
Watch prices if you're buying online - websites like CamelCamelCamel are a good way to watch how prices for goods on Amazon go up and down to ensure that you get the best deal
Use price-comparison sites – Google Shopping, Kelkoo and several similar services to help you find the cheapest prices for goods online
Check out voucher code websites for both presents and experiences – why not get a stressed family member a bargain massage voucher from a site like Groupon for instance?
Buy food from discount stores, markets and farms
Discount supermarkets offer produce that is just as good as anything you'd buy at more 'upmarket' shops, so if you're doing Christmas on a budget, it's definitely worth shopping at those chains instead. 
If you live in (or near) rural areas, heading direct to farm shops could give you huge savings as you'll cut out the middleman. If not, visit local outdoor markets – they will almost always do Christmas veg, turkeys and other meat for less. 
Buy second hand
So many "essential" Christmas items do not need to be new. Get online or visit local charity shops for things like:
Artificial Christmas trees
Christmas tree decorations
Christmas stockings
And charity shops are also a great source of cheap:
Wrapping paper
Cards
Labels and stickers

Spread the cost of Christmas
While it might be too late for 2019, spreading the cost of Christmas over the course of a few months could save you hundreds of pounds. If you're super organised, try and remember to buy gifts and non-perishable foods/drinks over the course of the year whenever there are sales on. The January sales are the classic time to do this, but there are other sales throughout the year too.
If thinking that far ahead doesn't work for you, another way to spread the cost of Christmas is to use a banking app like Bó which lets you set money aside into a piggy bank throughout the year. That means, come December, you'll have a fund for Christmas pressies without your regular budget getting ruined. 
Christmas shouldn't be a time for stressing about money, but with the pressure to overspend, it often can be. Nonetheless, by taking a little time to stop and plan, Christmas can be much merrier. 
A big part of the festive season are all those big nights out with friends and colleagues. Read our guide on how to save money on a night out.