BÓ | DO MONEY BETTER
The big money debate: Saving vs Paying off debt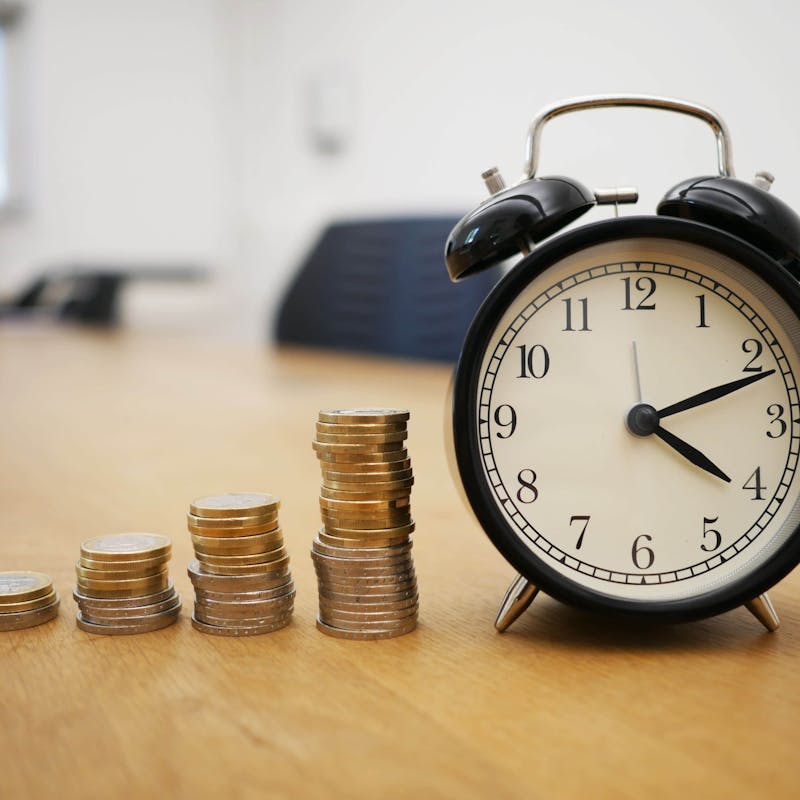 By Bó | December 17th 2019
If you want to get a handle on your money, one of the first questions you might ask is whether it's best to pay off debt or start saving?
Most of us have experienced some form of debt at one time or another. In fact, around a quarter of people in the UK are in debt most months of the year and the average credit card debt per person in the UK was £1373 in August 2019. (themoneycharity Oct 2019)
We all know how good it can feel to save and watch our money building up. As a result, many people find themselves saving money, trying to do the 'right' thing at the same time as paying off debt. However, you may wonder if this is the best approach?
Pay off debt or save?
If you're only a few hundred pounds in debt, it isn't a crazy high-interest rate and it's temporary, such as paying for a holiday in advance and paying it off each month, then there's generally no harm in saving and paying off debt at the same time. However, if your debt is into the thousands or you're consistently in the red and you're finding it hard to make the regular payments, then it's probably time to make reducing debt a priority. Here's why:
Unfortunately, it's not going to go away
The longer you leave a debt, it's only going to get worse. While starting to tackle debt is a big step, it can feel really good to see that number getting smaller.
You're losing money
It's easy to lose sight of it, but most credit cards have higher interest rates than savings accounts. For example, the best interest rate on a cash savings account is 1.5%. However, the average credit card interest rate in October 2019 was almost 20% (Which Jun 2019)
What does that mean?
Say you had £2,000 in savings at 1.5%, you'd make £30 after a year and have a total of £2,030. If you also had £2,000 on your credit card at 20%, you'd effectively end up owing the bank £400 more and have a total of £2,400 of debt. This is obviously a simplified example, but the point is that it's generally better in the long term to clear debt than save!
The good news is that managing debt is doable and there are tons of strategies for paying off even quite big debts - you just need a plan.
Being spontaneous is exciting, no-one wants to be constantly saying no to the great gig ticket on offer or the change of a weekend away, but you also don't want every enjoyable thing you choose to do to put you into debt.
It's good to talk
Often, speaking to someone, a friend or relative who understands money or has successfully navigated a debt situation before, can alleviate many of the worries about where to start. If you feel not able to take control of the debt then there are organisations that can help, such as Step Change.
Getting in touch with your bank, credit card or payday loan company, and talking honestly about how you can pay down your debt can also help you come up with a plan. In some cases, you may be able to agree a new payment plan with lower payments over a longer period, or potentially get a pause in repayments.
One scenario to particularly watch out for is where you find yourself paying back debt with other types of debt. For example, trying to keep up with credit card or loan repayments by paying them from an overdraft. This type of spiral is a particularly high priority to change because you are being charged interest on both sides. This is a good example of where repayment breaks could be sought from a lender.
If you've lost your job or have a break in income then working out how to take control and avoid the debt from increasing or becoming a serious problem is important and you should seek help.
Small changes make a big difference
In most situations (and particularly if you're reading an article about savings vs. paying off debt) it's likely that the debt is manageable and not a critical point, which means there are loads of ways to improve the situation.
By making small adjustments to your daily spending habits, you can make a big adjustment to your balance. For example, if you know you spend too much on gaming, maybe borrow a new game from a friends or put a cap on your account if you game online. Fed up of spending money on shop-bought lunches at work? Why not bring lunch from home a few times a week and see how much you save?
It sounds simple in theory, but we know this kind of change isn't so straightforward - not everyone has time to make a packed lunch each morning! But, once you get into the habit it can feel great. And as soon as you bank that feeling, it gets easier and easier to do.
Build yourself a buffer
Whether it's the car conking out, the boiler going bust or simply a great deal on holiday, we all have unexpected expenses or upfront costs for things we want to do in the future. Often, particularly in the UK, people turn to credit cards in these situations; but if you manage your money there shouldn't be a need to dip into debt every time something unplanned happens. Being spontaneous is exciting, no-one wants to be constantly saying no to the great gig ticket on offer or the change of a weekend away, but you also don't want every enjoyable thing you choose to do to put you into debt.
One way to stop yourself from having to reach for your credit card when unexpected bills crop up is to build up a buffer. This is a pot of money that you can dip into when you want to do something unexpected, from something annoying like replacing a car tyre to something unmissable like that perfect coat being on sale. You can start small by just transferring a few pounds a week into a separate account. If you've got a Bó account, you can use your Piggy Bank to house this money so that when an unplanned expense comes up, you can cover it.
Knowing whether to save or pay off debt is a financial dilemma everyone's faced at some point, so it makes sense to think about what's best for you.
For more easy-to-use financial tips, read our other blogs!